You can now embark on a journey to the beautiful and picturesque Bali, Indonesia, to engage in holistic wellness. And, what better than yoga, which is the first thing that comes to mind, when we think about the holistic realm. Bali is one of the places, where you will find the same qualities as that of authentic yoga locales like India. The reason being that Buddhism and Hinduism have many things in common. You can join the yoga school in Bali today, as it will drive your growth and development.
If you want to know, why Bali is the best place for yoga, read on.
Reasons To Learn Yoga At A Yoga School In Bali
You will be taken aback by Balinese spirituality. You are actually travelling to the island of the gods, where you will find Balinese Hindu practices at every corner. Practicing gratitude and living in the present are a few of the aspects that is resplendent of the Balinese culture. And, you are lucky to come up, close, and personal. Enjoy the genuine behaviour of all the people and walk into the temples to pray. You will hear of the bells and gongs, from every corner. Additionally, there are a few quarters, where you will only witness silence.
You can also see the place, which is dotted with hills and hamlets. Then there is the famous Bali swing, which will help you to float across the rice fields. The lush tropical jungle and the mountains are all scared according to Balinese culture. After a day out in the open, you will experience relaxation and rejuvenation in abundance.
Bali is one of the topmost and more extraordinary centres for spiritual healing in the Southeast. If you come across the yoga school in Bali, you will witness several holistic modalities and healing. Yoga, Ayurveda, Reiki, and other local healing forms are practiced in abundance in Bali. You will also be able to enjoy and reap the benefits of Balinese massage.
Apart from being a dreamy place, it is the place, where you can meet yoga teachers. There are many students at the yoga school in Bali, who have managed to travel all the distance from countries like USA, Spain, Italy, and many more. You can embark on a career of yoga teaching, as there will be ample scope to imbibe and soak the healing qualities.
Learning Yoga In Bali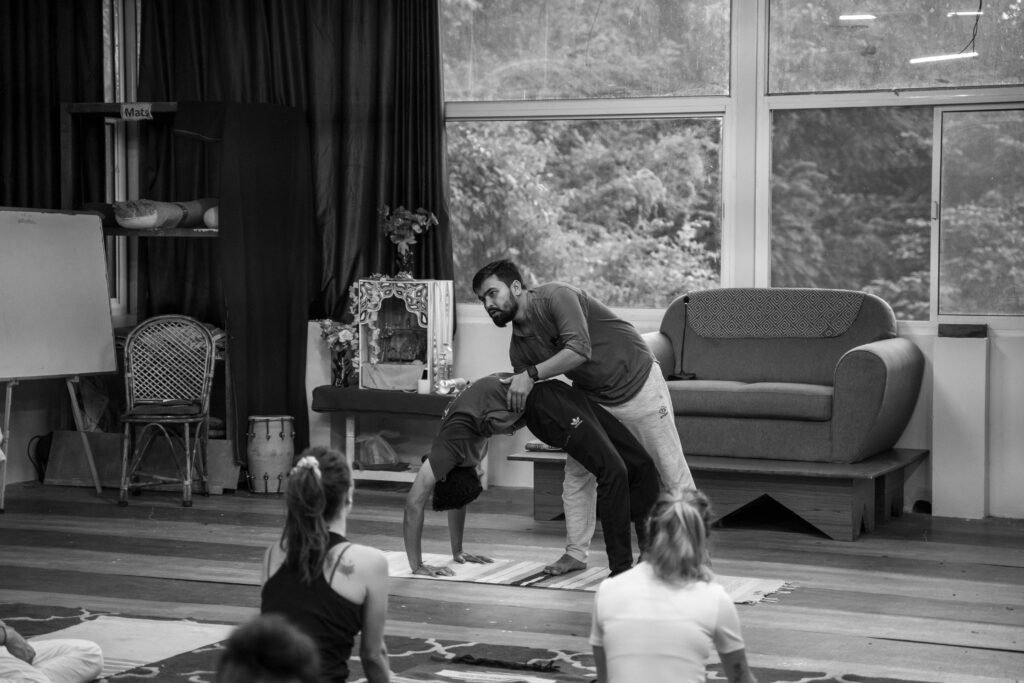 You can embark on a yoga teaching career, by joining a course in Bali. The teachers at Bali are all quite composed and of a calm demeanor, as the place makes it so. You can join the entry-level yoga course of 200 hours, to get a feel of the discipline. You will learn several subjects like Hatha Yoga, Ashtanga Vinyasa Yoga, Meditation, Pranayama, Mudras, Bandhas, and Kriyas at the school. These are the main subjects that you will study in Bali, as a part of the yoga course.
Multi-style yoga is one of the most favoured courses in yoga, as it gives you an overall idea of the realm.
Hatha Yoga is one of the most traditional practices in yoga, which you can learn at the yoga school in Bali. The form endows the practitioner with physical prowess. You will develop balance and stamina. Hatha Yoga is a form, which aims to balance the sun and moon. So, it is quite apt, that you will be able to get both the energies is equal amounts. It gives the body a lot of power and stamina, so that you can engage in higher practices.
Pranayama is one of the breathing practices, which can help you to increase your longevity. It is one of the main practices, around which the other practices revolve. You will learn about various breathing practices, like Anuloma Viloma, Nadi Shodhana, Bhastrika, Sitali and Shitkari. Pranayama utilizes Rechaka, Kumbhaka, and Puraka. These are the three parts of breathing. You must master each one of them to gain control over your breathing patterns. Pranayama practice helps in the improvement of respiratory systems and also enhances lung capacity. So, you must practice it adequately.
Meditation is one of the practices in yoga, which can help you to elevate your practice from a physical plane to a spiritual plane. The teachers are trained experts in meditation, and will help you to gain control over your thought patterns. At certain instances, you will observe everything, without reacting. On the other hand, you will become mindful and stay in the present. Breathing Awareness is one of the main types of meditation, which you will learn at the yoga school. Guided meditation is also a part of the course. The ambience will be the perfect backdrop for your yoga practice and meditation.
Yoga Philosophy is another aspect of the course, that you must learn and imbibe. You will follow Hatha Yoga Pradipika and Patanjali's Yoga Sutras in the multi-style yoga class. These are Vedic texts that can trace their way back 5,000 years. When you learn the background of a healing modality, you can teach with more conviction. The yoga teachers will help you to understand every text and verse. So, as you delve in self-practice, you will understand and follow every bit. Additionally, you will learn about Pancha Mahabhuta and Sapta Dhatus.
Final Thoughts
You will be able to learn the finer nuances of the subject yoga in the scenic locales of Bali. It is more about the experience, rather than what you think it is. Most people think that yoga is about the body. When you step into the discipline, you will discover things that seemed oblivious till date. You can book the yoga course at a yoga school in Bali, and enjoy the learnings. Moreover, you can either practice for your own self, or embark upon a teaching career. Get inspired by the Balinese Yogis, who seem calm and unperturbed under all circumstances. It will help you to get closer to nature and your inner soul. Bali Yoga Retreat is one the best places where you can head for divine intervention.